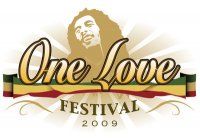 In recognition of Bob Marley's famous 1978 concert, this festival brings together some of the UK's finest dub and reggae influenced acts in a Wildlife Park in the South East of England. Acts include David Rodigan, Adrian Sherwood, Smith & Mighty, Manasseh, Alpha & Omega, Unity HiFi, Dub Pistols, Skitz, Prime Cuts, Lol Hammond and Mixmaster Morris...

August 21st-23rd, Port Lympne Wild Animal & Safari Park, Kent

This is the short review of the festival for Virtual Festivals...



Initially a one-off event to celebrate the 30th anniversary of the legendary Bob Marley's historic concert in 1978, One Love has stepped up to try and establish itself as the UKs premier dub and reggae festival. It is small though, with only around 1,000 people making the journey down to Port Lympne in Kent to support it, it has a long way to go before it fully establishes itself as a festival to be reckoned with. Respect has to go out to the organisers though, as their own experience has shown, trying to organise a dedicated reggae festival is not without it's pitfalls. Being forced to change venue at such a late stage, One Love has had to battle to get this event under way at all, and under the circumstances everyone just seems happy that they are being given the opportunity to stage a festival of music they love, and see the acts they want to see, all in one place. With many festivals having a hard time attracting enough people to make it worthwhile, fulfilling it's ambitions is never going to be easy, but it's that willingness to adapt, and dedication to the cause, that will eventually enable the festival to reach it's goals. Those that did attend this year will have considered it to be a great success, and spending a summery weekend in the countryside soaking up the sun, with a reggae soundtrack that boasts some the UKs finest purveyors, is hard to argue against in principle. When it comes down to it though, it's the finer details that will decide the fate of any festival of this size, and One Love needs a bit more thought and imagination before it can be considered something to get really excited about.


As a specialist festival, you really want to be choosing a location that is easily accessible to as many people as possible to get maximum effect, and staging the event in the far south east corner of England is always going to alienate a lot of potential ticket buyers. However, it was apparent that some people had put in a lot of effort to come and hear the music they love played in a festival context for an entire weekend, and crews from Bristol and Birmingham were well represented among the attendees. Given that it's not the easiest place to get to by train, with the closest big station over 10 miles away in Ashford, and little hope of getting a bus or taxi from the nearer train stations if you did decide to take that route, travelling by car really is the best option. Easily navigated to via the M20, and with the Safari Park located right next door, drivers can be safe in the knowledge that signposts will get you all the way there, and the maps can stay on the back seat.


Driving up to the festival for the first time, it is obvious that the event is still very much in it's early years, and we were never going to be wowed by some inspired layout design, or creative use of space. The flat open field, situated next to the Safari Park car park, reinforces the impression that under normal circumstances, this wouldn't be the first choice of venue, and that some pretty big compromises had perhaps been made to make sure this event went ahead at all. Once we're inside, the large circle of tents and stalls is not really helping the atmosphere either. The 2 main sound systems and the open air Stage Bus are all situated in close proximity, and with so few people helping to absorb the sound, it's difficult to avoid an almighty sound clash unless you actually go into the tents themselves. With the sun beaming down all weekend, this isn't ideal, and it's only when the sun sets that the layout really starts working. The tents fill up, and everyone's able to allow the DJs to set the tone with their choice of music, and the festival gets a lot more interesting. The restrictive licensing agreement means that music is only banged out until midnight though, a problem solved by the organisers by giving late night 'Silent Disco' slots to the likes of Prime Cuts and The Dub Pistols Soundsystem. A novelty in itself, this actually worked quite well, but definitely took some getting used to for both the DJs and the crowd.


There's no doubt that everyone involved in this festival is here for the same reason, and a real community vibe helps to create a relaxed and friendly atmosphere throughout the whole weekend. Family friendly too, it's an ideal opportunity for parents to introduce the kids to their first festival experience without all the hassle and paranoia that larger events can generate, and the size of the site means they are always close by. As a music festival though, it falls short in supplying many of those classic festival moments that frenzied crowds provide, as there is rarely enough people in any one place for the crowd and performers to feed off each other and generate some excitement. The Unity Collective tent is the obvious exception here, with their late night drum and bass slots causing a bit of a stir.


Overall, it's a great selection of Soundsystems and DJs that One Love has brought together, and as always when you come to events like this, you are able to explore new music and be surprised by a few acts that you may not have heard of before. Festival regulars like Mixmaster Morris, David Rodigan and Adrian Sherwood all had a hand in bringing some recommended acts to the table, and a DJ set from Nick Manasseh was a definite highlight. The Stage Bus provided a bit of variety too, with some great live musicians and MCs complimenting the DJs, and the quality of the entertainment overall shows the organisers have a good base to build on.


The Travelling Observatory is one of the few stalls to really make an impression, and being able to return there at different points during the evening and see the latest celestial object of interest that has come into view in the night sky was a great idea. The clear skies obviously helped!

The organisers had struck a deal with the neighbouring Safari Park so that anyone with a festival wristband are granted entry to the park at the amazing price of £5. Another treat for families, and as it turned out, with day tickets to the festival available on the door, an unexpected treat for a few passing Safari Park visitors too!


With 5 music tents playing simultaneously all weekend, it really is frustrating when you're hearing great music in an empty tent. Inevitably, this means it's going to be difficult to encourage some of the acts to make the effort to come back and play again in future years when all they are doing is entertaining themselves all afternoon. Nothing a couple of thousand more people couldn't solve though.

With the festival promoting dub and reggae music with such verve, it is disappointing not to see this represented in the choice of stalls. I would have loved to have seen at least one record and CD stall giving you the opportunity to take home some of the music that has inspired you over the weekend.


On arrival the home made wooden toilets looked pretty uninviting, but within hours the graffiti crew 'Philth' had transformed them into an amazingly colourful mural by spray painting the doors. This caused groups of people to indulge in the dubious looking practice of standing outside waiting for people to go to the toilet before they get their camera out to take pictures! Great artwork though…go check them out.

Review by Matt Cook

© 2006-13 Image Creation Corporation. All rights reserved.