The Big Chill are slowly but surely building on of the finest line-ups of a festival yet, reinforcing themselves as a rock in the otherwise fragile world of boutique festivals...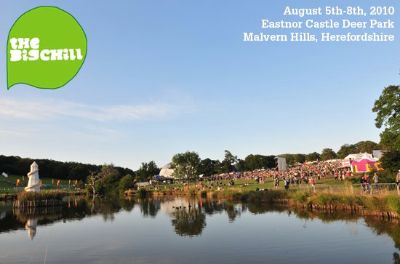 Massive Attack, MIA, Roy Ayers, Kruder & Dorfmeister, Solid Steel AV Special inc Hexstatic and DJ Food & DK, Dam Funk, Roots Manuva, Futureboogie, Bebel Gilberto, Layo and Buskwacka!, Martyn, Matthew Herbert's One Club, Tom Middleton, Theo Parrish, Mr Scruff, Daniel Wang, Mixmaster Morris, Gilles Peterson, High Contrast, DJ Derek, Smoove and Turrell, London Elektricity, The Bug, Polarbear, Craig Charles Fantasy Funk Band, Henrik Schwarz, Jose Padilla, Roger Eno, Easy Star Allstars, Warp Films, Kelis, Greg Wilson, Mad Professor, Plan B, Andrew Weatherall, Crazy P, Toddla T, Alice Russell, Shlomo, Appleblim, 2020 Soundsystem, Metronomy, Zero 7....and more!!!

August 5th-8th, Eastnor Castle, Ledbury, Hertfordshire



Since starting its life as a small gathering of friends in the Welsh mountains, The Big Chill has grown, blossomed and bloomed following a move to the grand Eastnor Castle Deer Park. With strict principles and a sound ethic, it established itself as one of the UK's finest boutique festivals, providing a refreshing alternative to the larger, corporate run events like Reading, Leeds, Glastonbury and the like. It seeked to represent the more obscure ends of the musical spectrum by keeping a core selection of underground DJs, all leaders in their respective fields, whilst building a team of music hungry programme schedulers whose depth of knowledge seemed unfathomable. As a result, The Big Chill experience was always as much about exploring the music as it was the site, and you would always come away feeling richer and more knowledgeable yourself.

This, coupled with a desire to create an atmosphere of wonder in the already naturally outstanding setting, The Big Chill always looked a bit further afield for its peripheral entertainment, and it offered its hand to those making similar waves in the art and media worlds to come and create installations, premiere films, deliver talks or provide workshops. All this added to the charm, but ultimately it was the attention to detail that always set this festival apart from the rest.

Now under new ownership, with co-founder Katrina Larkin taking a more directorial role in the organisation to take the Big Chill into its teenage years, what effect has this had on the overall experience?

Well, as is probably intentional, The Big Chill 2010 is fundamentally the same, but it's the little things that you take for granted when being spoilt that show themselves as being compromised at this Big Chill. What was once a faultless festival now seems to have gone backwards somewhat to leave some - previously absent - room for improvement.


The Big Chill is situated in the Malvern Hills, near the small town of Ledbury. Arriving in Ledbury is often chaos, and from the way in which locals set up seats outside their houses to watch the mass of people descending on the town to pick up supplies on their way to the festival, you can tell they are not used to the influx. It seems like it's an event in itself for them!

Access to the site itself by car is through three gates, all some distance apart, which eases the traffic flow somewhat, but is only then offset by the long stony single-track roads that lead you up to the festival.

Trains from major stations take you to Great Malvern or Ledbury itself, with shuttle buses provided by the organisers. This year saw some horrendous last minute changes to train timetables which meant journey times are considerably longer than expected for some people, making it difficult to justify the organisers encouragement to travel by public transport.

It's good to properly plan your camping arrangements around your intended mode of transport if you can or you could find yourself with a long hike from a taxi drop off point to the box office to pick up your wristband.


The site itself is beautiful, and only the hilly walks from some of the camping areas, or up to the Enchanted Garden, make travelling around the site hard work sometimes. But the hills act as a natural screen and you still get the feeling of awe as you come over the brow of the hill to see the lakeside setting glow with wonder. There is so much around the site that lends itself to the sort of atmosphere The Big Chill is trying to create that it is difficult to go wrong.

The onsite facilities are our first taste of something that is a bit different at this year's Big Chill. Much poorer quality toilets and showers and less of them, it would seem. Sound systems in some of the tents that just don't quite seem to cut it for certain acts. Restricted access giving some Big Chillers further to walk to get to the arenas and a layout that seems to shepherd people into certain areas rather than encouraging them to explore. It all just had a slightly more budget conscious feel to it compared to previous years, and anyone wanting to revel in the brand that The Big Chill have created over the last four or five years, may feel a little hard done by.

It is much more likely that these things just represent a shift in the sort of people this festival is now aimed at and the number of people they expect to attend. Typical indicators like the amount of alternative, high end camping seen around the site seemed much less frequent, and the numbers roaming from field to field felt much lower than previous years.

None of this makes having a great time at The Big Chill harder though. In fact, a return to the days when you don't have to spend hours of your weekend in queues for the toilets or food stalls is most welcome, and the introduction of a few more commercial acts on the Main Stages does mean there are less schedule clashes for your favourite performers.


The atmosphere at The Big Chill can often contradict the relaxed, laid back vibe the name suggests. Sure, there are many opportunities to chill out, with the 'Body and Soul' areas providing massage and therapy, and the 'Enchanted Garden' providing secluded stages in the woods to escape to if you've had enough of the crowds. The professionally supervised Kids Area also adds to the family friendly feel The Big Chill has always promoted.

However, the choice of DJs for the far end of festival this year did more than offer you the chance to let loose and party. With the Paradiso and Starburst stages within close proximity constantly banging out heavy bass, and a great selection of drinks sponsored tents doing similar, you're never short of somewhere to go to find like-minded people to help work up a festival frenzy, if that's what you're after.


You can still enjoy a diverse range of both live music and DJ sets that take you through pretty much every genre of music you could wish for: from jazz, soul and funk, to techno, drum 'n' bass and dubstep, right through to downtempo grooves, folk rock and ambient soundscapes – all of which are of the highest quality. It has to be said that the some of the mixing on the Thursday night left a lot to be desired though.

One thing is for sure: there's always plenty going on at The Big Chill. While the headliners Thom Yorke (7/10), Massive Attack (7/10), MIA (8/10) and Lily Allen (6/10) fill the main stage, the real gold is found elsewhere and choosing who to see from the encyclopaedia of a programme this year is a job in itself.

The Black Seeds (9/10) brought their brand of funk over from New Zealand for their first Big Chill with great effect and The Craig Charles Fantasy Funk Band (10/10) caused a storm in The Reveller's Stage on Saturday with their all-star cast of performers picked from the best new funk outfits from around the world. A Sunday afternoon set from Roy Ayers (9/10) topped off the great choice of instrumentalists on show.

Dubstep was everywhere at this year's Big Chill and could be heard infiltrating almost all the tents at some stage over the weekend, including Lily Allen's set! The ground up boys doing the business in Paradiso and Starburst includes Martyn (8/10), Magnetic Man (10/10), N-Type (8/10) and Joker (9/10), with The Bug annoyingly seeming to fall fowl to some sound problems on Sunday night.

The 360-degree AV Igloo proved to be a great success, with Ninja Tune's Solid Steel (10/10) show on Saturday mesmerising an amazed crowd by constantly stretching the boundaries of what is possible with two turntables.

Other outstanding sets included Kruder and Dorfmeister (8/10), Layo and Bushwacka! (9/10), Greg Wilson (9/10) and Henrik Schwarz (8/10), all bringing their own style to the table to a receptive crowd, and covert sets from Bonobo (10/10) and Mr Scruff (10/10) in his lakeside tea tent kept you on your toes. A surprisingly hard set from Zero 7 (9/10) helped finish the festival in style.


MIA's invitation for Big Chillers to join her on stage backfires badly when she then has to cut her show short because too many have taken up her offer!

review by Matt cook

This article has also been published by Virtual Festivals here

© 2006-13 Image Creation Corporation. All rights reserved.