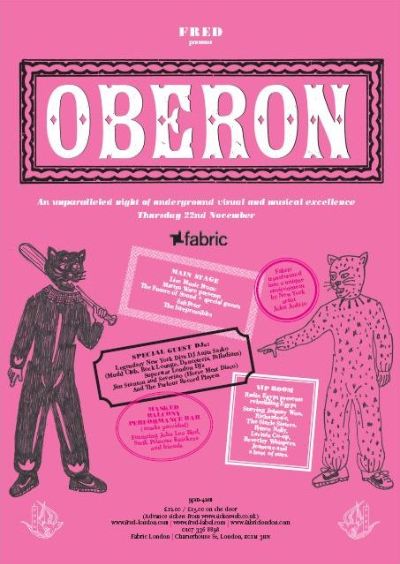 The creation of contemporary art gallery owner Fred Mann, the Fred label launches a new quarterly residency at one of London's most respected night clubs - Fabric. Oberon doesn't just want to fulfil clubber's musical needs though, and the line-up of entertainment on show for this opening night is setting a high standard for future events to meet, but judged on past achievements, Mann's aspirations are consistently met.

The Fred label was set up in 2006 in response to the changing climate the music industry resides in. The opportunity the download experience offers to smaller projects to reach their intended audience, and still make the sort of returns necessary to make them lucrative, has been something Fred has had his eye on for a while. The result has been a series of innovative and experimental releases that allow the artists involved to explore the new found freedom that major labels deny. Releases from the likes of Pauline Taylor sit alongside the rawness of Gallon Drunk and classical work from Catherine Bott, demonstrating the label's commitment to defy pigeon-holing while maintaining the high quality of artists on their roster.

So, with such a mixed background and broad tastes, what can we expect from the promoters of Oberon when they are given the freedom of Fabric for their party space? The answer to that is a night that draws on every aspect of Fred Mann's experience and expertise in providing something completely different that will invite, engage, entertain and amaze.

New York artist John Jodzio will transform Fabric into a fantasy world with an installation of hand paintings, projections and life-sized figures with his own inimitable style, while a masked balcony bar will invite a mystery of it's own to anyone who chooses to explore, and a VIP Room run by Radio Egypt's Johnny Woo promises to make the peripheral entertainment colourful and exciting.

Special guest DJs include Jim Stanton and Severino, as well as legendary New York Diva Anita Sarko, who's performances at some of the coolest clubs in Manhattan since the late 70s influenced a wide range of musicians from Prince and the Beastie Boys to Cher and Whitney Houston. The respect she gained from DJing earned her celebrity status long before the DJ culture exploded. Invitations from all around the world include private parties for MTV, Playboy, Vanity Fair, fashion shows for Calvin Klein and Vivienne Westwood, and even a set at Andy Warhol's funeral!

The Main Stage holds an equally grand musical appeal though, as the Fred label showcases live performances from it's own artists SaltPeter and Martyn Ware, along with guests The Irrepressibles.

Martyn Ware, founder member of The Human League and Heaven 17, has found an outlet through the Fred label for his current Illustrious Company project with Erasure's Vince Clarke, that aims to combine elements of fine art, science and technology, and music in a show that looks and sounds truly amazing, and has gained critical acclaim wherever it has manifested itself. "Future of Sound" has built into it's show performances that develop experiments in sound, like brainwave analysers, circuit bent children's toys, drum triggered animations and 3D soundscapes - providing a window into what the future of sound could hold.

SaltPeter are Salena Godden and Peter Coyte, and together they use their influences to blend elements of rock, ska and breakbeat to impress all those that hear them, including recent remixers Coldcut, quoted as saying "This is the most exciting duo this side of Mars". Expect the party to be lifted by these two, and their distinctive sound.

The Irrepressibles add to the avant garde feel of the night with a 10 piece orchestra that compliment their show with a choreographed theatrical performance that sets them apart from anything you might have seen before.

All in all, with so much on offer, and talk of a very special guest (maybe the clue is in the article?), this opening night promises to make enough of an impact to make this a regular diary entry...

Find out more about the Fred Label & Artists, the Future of Sound project, and The Irrepressibles MySpace

© 2006-13 Image Creation Corporation. All rights reserved.