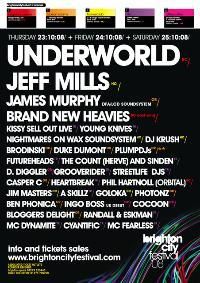 Well, it's not totally the end of the Festival Season! Brighton's Our Friends Electric present an autumn urban festival of electronic music in various venues around the south coast's coolest city. Lots more acts to be confirmed, but among those already provisionally booked are Jeff Mills, Underworld, Nightmares on Wax Soundsystem, Brand New Heavies, DJ Krush, Phil Hartnoll, Billy Nasty, Plump DJs, A-Skillz, and Grooverider. With wristbands allowing roaming access on the Thursday, and specialist gigs on the Friday and Saturday, this should be a great event...

23rd - 25th October, Various Venues, Brighton

This is the short review of the festival for Virtual Festivals...



The Brighton City Festival is an autumn urban festival of electronic music that pulls together a selection of leaders in their respective fields in an attempt to create a co-ordinated 'festival' type experience hosted by some of the most popular venues around the South Coast's coolest city. In reality, with artists dropping on and off the line-up in the run up to the festival, and the venues for each event subject to late change too, this year's festival didn't really warrant the 'festival' tag, and ended up being almost exclusively based in Brighton's Ocean Rooms. That aside, the choice of acts was pretty good, and an obvious effort to make each night different was what made it a worthwhile venture.


As with all urban festivals, travelling there and back is not the issue, with routes into big cities well served bv rail, coach or car. The only issue once you're there is the expense of travelling between venues, but exploring the city and stopping off at various places on the way is half the fun, and the city isn't short of cool places to waste a couple of hours if you want to take a break. Finding somewhere to stay in Brighton isn't difficult either, with loads of hotels and self-catering flats of all shapes and sizes to choose from - some with some great deals, especially if you're in a large group. In tune with the theme, we stayed in the boutique Hotel Pelirocco's Skint Records designed room – the home of Stanton Warriors and Brighton's own Fat Boy Slim. CityPad and LateRooms both provided us with a great choice of last minute offers too.


Being fairly new to Brighton myself, I was quite looking forward to roaming the different clubs listed to get a feel for what's on offer at each place, but on the run up to the event, the venues shifted and the Ocean Rooms became the primary venue for most of the weekend, two of the venues completely wiped off the schedule. In festival terms, that's like getting to the site to find two main tents closed, so you can imagine what that does to your excitement and anticipation, and much of the festival feel to the event was lost as a result. Brighton itself is a great place though.


This didn't stop everyone in the Ocean Rooms from generating a great atmosphere though, and the crowd were well up for the main attractions. Jeff Mills packed out the basement on Thursday night and the walls were dripping from the heat in there, and Nightmares on Wax and DJ Krush pulled in a big following. Although the beats were downtempo, it didn't stop people from having a great party. The mass of alternative entertainment in the city did mean some of the nights took a while to get going. Not really comparable to a festival vibe overall.


Jeff Mills always brings a kind of alchemic wizardry to any place he plays, and Thursday night was no different. Incorporating the classic TR-909 drum machine into his set, he mesmerised the crowd by the end with a barrage of filtered snares, booming kick drums and rattling hi-hats for the last 20 minutes, and everyone went home knowing they'd seen a legend at work. Underworld played their summer festival set at the Brighton Centre, before Nightmares on Wax brought a live feel of the festival at the Ocean Rooms, and with guest vocalists performing funky tracks like 'Bringin It' from the recent "Thought So" album, they had no problem getting the crowd in the mood. DJ Krush followed with a turntablist exhibition that was surprisingly eclectic, and tracks like 'Kemuri' got a huge reaction from the crowd. What with that and plenty of turntable skills on show, he really was a massive highlight. Sunday saw New York's James Murphy delve deep into his record bag for some obscure disco gems, and playing classics like Rockers Revenge to perfectly fill the gaps between the old and the new. Brodinski took it to the next level with a much harder, but still very danceable set before the night got progressively darker with Sven Vath's Cocoon label DJs seeing the night out and banging it out well into the early hours of Sunday. All in all, given the circumstances, a good 'across the board' selection of electronic music, obviously picked with passion, if maybe just a bit behind the times.


The fresh sea air is always a great cure for a hangover, and with only a short walk to the beach, there's always plenty of activity on the waves, with kite surfing and various beach sports making pretty entertaining watching.
In town, you're surrounded by endless bars and restaurants, record shops, vintage and boutique clothes shops, and busy back street market stalls. Brighton is a great place to visit and the people are generally very friendly. Sounding a bit more like a festival now? What more could you ask for?


The cancelling of shows, moving of venues, and general reliability of the published line-up made for some disappointing moments, including finding out Plump DJs slot was a whole week before the festival actually started?


Good grafitti work dotted around the city

Review by Matt Cook

You can see a gallery of images from this festival on our Flickr site here

This review was also published at Virtual Festivals here

© 2006-13 Image Creation Corporation. All rights reserved.